| | |
| --- | --- |
| | Nomad 7 Solar Panel |
The Nomad 7 delivers an ultra-compact yet powerful solar panel that enables you to charge your handheld devices directly from its USB and 12 Volt DC charging ports.

As fast as the wall

Solar charge your cell phone in 1-2 hours.

Easy to Use

Use solar power with USB or 12V devices

Portable & Powerful

Collect 7 Watts of power from the sun. Foldable, rugged design, and weather resistant

WHAT CAN THE NOMAD 7 SOLAR PANEL CHARGE?
The Nomad 7 will directly charge most USB and 12V devices (not tablets). Most handheld USB devices, include: Cell phone, smart phone, GPS, MP3 player
WHAT GOAL ZERO PRODUCTS WORK BEST WITH THE NOMAD 7?
Goal Zero Switch 8 Recharger, Guide 10 Plus, and Rock Out Portable Speaker
CAN I USE THE USB AND 12V PORTS TO CHARGE DEVICES SIMULTANEOUSLY?
Yes. The Nomad 7 will split the incoming solar power between the two ports to charge devices simultaneously. Some devices may not be compatible.
HOW DO I USE THE NOMAD 7?
1: Open and remove protective file from solar cells (film may already have been removed)
2: Position and angle panel towards the sun
3: Plug your device into one of the charging port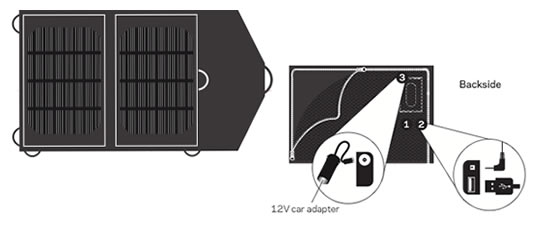 USAGE
Charges from the following:
Approx. Charge Time:
Switch 8 Recharger
3-6 hours
Guide 10 Plus
3-6 hours
Cell phone, MP3 player
1-3 hours
Smart phone, GPS, USB camera
2-4 hours
Not compatible with tablets, like iPad
SOLAR PANEL
Rated wattage
7W
Cell Type
Mono crystalline
Open-circuit Voltage
8-9V
PORTS
USB port
5V, up to 1A (5W max), regulated
Solar port (blue, 8mm)
15V, up to 0.3A (5W max), regulated
Mini solar port (2.5mm)
6.5V, up to 1.1A (7W max)
GENERAL
Weight
0.8 lbs (0.36 kg)
Dimensions (unfolded)
9 x 1.5 x 17 in (22.9 x 3.8 x 43.2 cm)
Dimensions (folded)
9 x 1.5 x 6.5 in (22.9 x 3.8 x 16.5 cm)
Warranty
12 Months
Certifications
FCC, CE, ROHS
Optimal Operating Temp.
32-104 F (0-40 C)