Ultra-Bright 55 Lumen Output


Accepts HDMI up to 1080p Resolution


15,000 Hour LED Light Source


Onboard Video, Picture and Music Player


Samsung® Galaxy and iPhone® Compatible
2+ Hour Battery Life


The AAXA P2 Jr. features the very latest in optical projection technology because at the heart of this pico projector is an amazingly small optical engine about the size of 3 silver dollars stacked together. This optical engine incorporates the very latest in pico-projector technology making the P2 Jr.'s diminutive form factor possible. Packed into its tiny frame, the AAXA P2 Jr Pico Projector features a brilliant 55 lumen light engine, a powerful ARM processor, and HDMI and VGA inputs capable of accepting 1080P and WXGA resolution inputs respectively. The P2 Jr. Pico Projector is able to play movies, pictures, and music with its onboard processor and coupled with its 2 hour Lithium-Ion battery, the P2 Jr. lets users spontaneously share photos, videos, or other digital media with friends and family – anytime anywhere.




Weighing in at less than 0.3 lbs the AAXA P2 Jr. is a true pico projector. Roughly the size of a smart-phone, the P2 jr comes in at the size of just 4.2" x 2.9" x 0.8". The P2 Jr. with its tiny size, multiple functionalities, and wide compatibility represents the very latest in mobile entertainment technology.



Mobile Battery Power

---

Packed in the P2 Jr's small frame is a powerful lithium ion battery capable of providing 2+ hours of playback. The P2 Jr's premium grade battery is long lasting and designed to withstand many charge-cycles.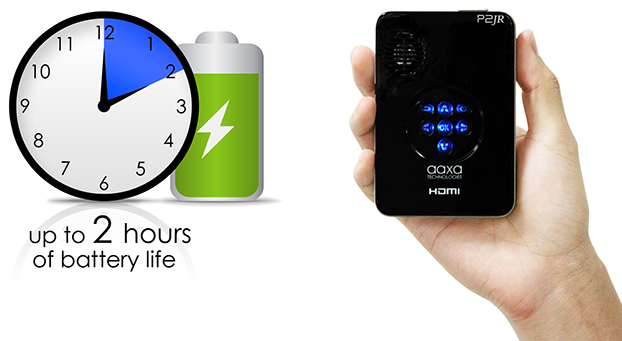 Perfect for the Family
---

The AAXA P2 Jr. is the perfect companion for both adults and children. With its onboard media player, the P2 Jr. can project cartoons, movies, and pictures directly from a USB stick or Micro SD Card and entertain the whole family for hours.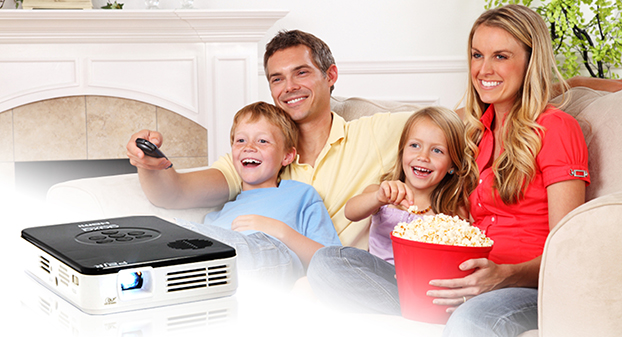 Mobile Media Powerhouse
---

The AAXA P2 Jr. Pico Projector lets you share your photos, videos and other digital media with family and friends anytime, anywhere. The powerful ARM-based processor allows the AAXA P2 Jr Pico to natively play 720p videos, pictures, and even text and music directly from a USB or microSD card (up to 16GB). An entire media library can be preloaded for instant playback!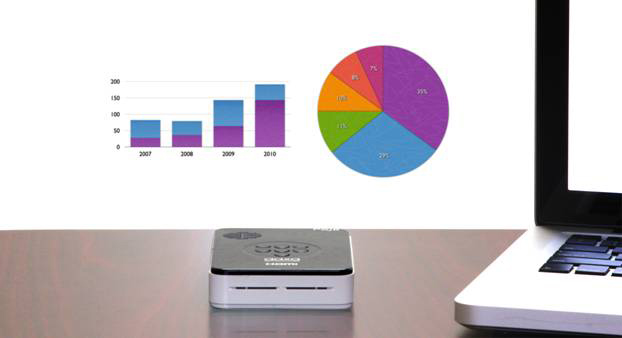 Take it Anywhere
---

The P2 Jr. Pico Projector is a true pocket projector that fits comfortably in a pocket, purse, or briefcase . With the 2 hour onboard battery, and powerful onboard media player, the AAXA P2 Jr. Pico Projector is a perfect all-in-one mobile multimedia center.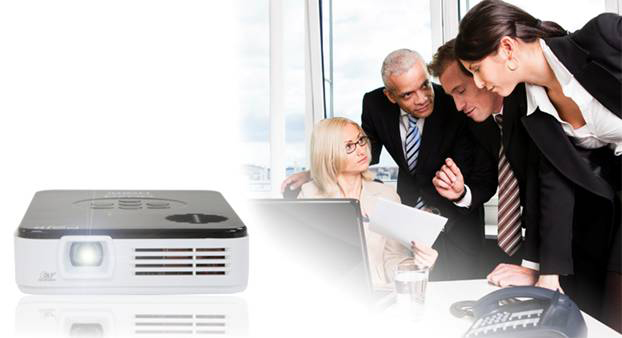 Long Operation Life and Quick On & Off
---
| | | | | | |
| --- | --- | --- | --- | --- | --- |
| | | Conventional lamp-based projectors require frequent bulb changes with very expensive bulbs that cost hundred of dollars. | | | The P2 Jr's LED light source lasts 10 times longer than conventional lamps so bulb changes are a thing of the past! |
| | | | | | |
| --- | --- | --- | --- | --- | --- |
| | | Long warm-up and cool down times, sometimes for several minutes, are required for projectors using traditional lamps. | | | The LED light source enables the AAXA P2 Jr's to achieve full brightness within seconds. Of course, it turns off instantly as well. |

Versatile Multimedia Support
---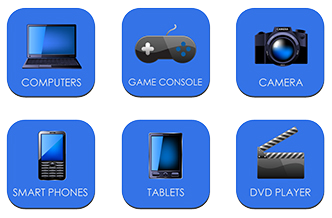 Onboard media player supports popular file formats

Share movies, videos, photos with friends and family
Bring presentations anywhere and everywhere
Enjoy gaming and entertainment without large TV's
Inputs & Connectors
---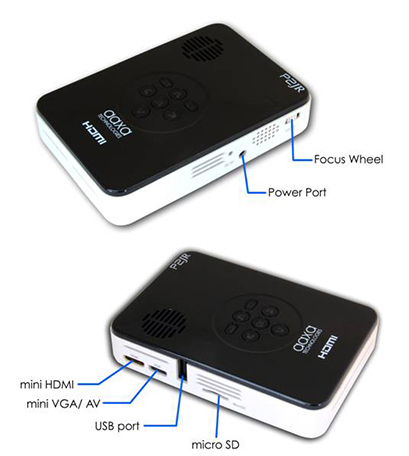 mini-VGA Connection

mini-HDMI 1080P Connection

USB Port for Video & Picture Playback

microSD Card (up to 16GB)

Composite RCA, Adapter included















Environmentally Friendly
---
| | | |
| --- | --- | --- |
| | | The AAXA P2 Jr's LED light source consumes less power. The LED is also 100% free of mercury and, as the bulb never needs to be replaced, there are no discarded bulbs. |
AAXA mini-HDMI to HDMI Cable
     


Only for P4-X and P2 Jr.


Carries digital audio/video signal


Perfect for presentations, portable media devices, and laptops



AAXA P300 Optional Battery



AAXA P300 Lithium-Ion Battery
60+ minutes on a single charge
Easy Installation

AAXA Mini-VGA Adapter
     


AAXA Mini-VGA Adapter


Use with your Pico Projector to connect VGA devices!




AAXA P2 Jr. AV Cable



AAXA P2 Jr AV Cable


Use with your P2 Jr to connect to composite devices (DVD Players, Game Consoles, etc)!


Projection System
Max Input Resolution:

1920x1080 (1080P)

Brightness:
55 Lumens (DC Mode)
Contrast Ratio:
1000:1
Projection Lens:
Manual Focus
Projection Image:
Available Size 10 ~ 50 inches
Lamp:
Triple RGB LEDs with Vibrant Color Technology Life 15,000hrs
General Specifications
Battery Runtime
120+ Minutes
Audio Output:
1W stereo speaker
Color:
Gloss White/Black
File Playback:
USB Memory Stick reader microSD Card Reader (up to 16GB)
Menu Language:
English, French, Dutch, Chinese, Portuguese
Aspect Ratio Control:
4:3
Throw Ratio:
1.6
Dimensions:
4.2" * 2.9" * 0.8"
Weight:
0.3 lbs
Power Consumption:
6W
Supported Formats:
MP4 / MP3 / AVI BMP / JPG / GIF / TXT
Conformances:
CE, FCC Class A
Inputs / Outputs
Video In:

mini-HDMI
mini-VGA
Composite A/V (3.5mm Jack)

USB:
5 Pin USB 2.0
Throw Ratio
Screen Diagonal (inches)

Screen Distance (inches)

8
10
12
15
16
20
24
30
31
40
39
50
47
60
55
70
INCLUDED ACCESSORIES
Composite AV Cable, Wall Charger, VGA Cable
DIMENSIONS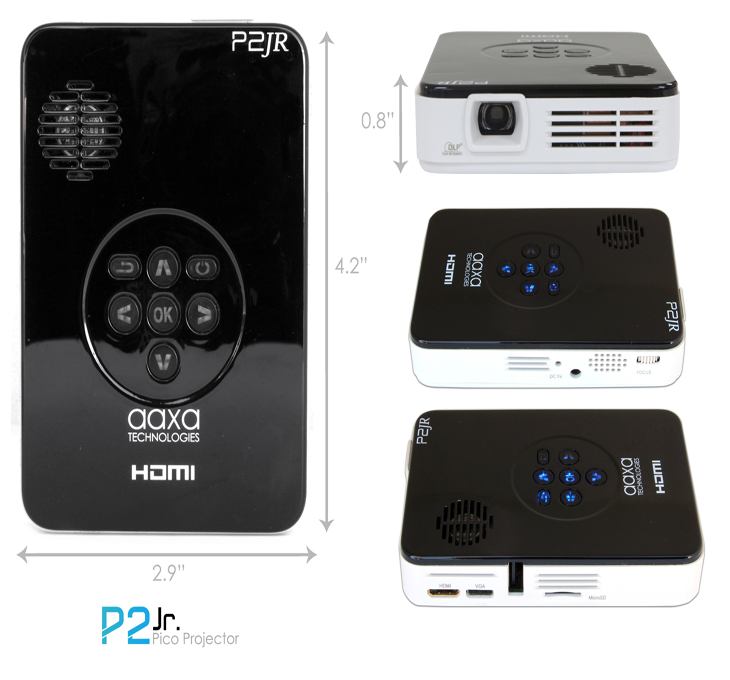 P2 Jr MEDIA PLAYER MAIN MENU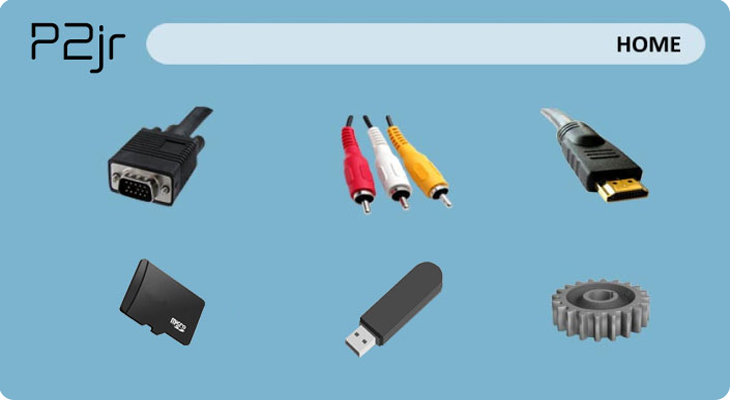 | | |
| --- | --- |
| Excellent Color Reproduction | Capable of 50" Images in Dimly Lit Room |
| | |
| --- | --- |
| High Contrast Provides Deeper Blacks | Great Performance Even in Bright Room |
| | |
| --- | --- |
| High Resolution Text Display | HDMI Display with iPhone |