We at Brinno Incorporated are very proud to introduce the BirdWatchCam.
The BirdWatchCam is a low cost, EASY to use, weather resistant, motion activated Birding Camera, that is EASY to mount and target at your bird feeder, birdbath, or anywhere that birds go.


The BirdWatchCam is designed to sense the motion of birds entering the camera's field of view.Once the motion sensor is activated, the BirdWatchCam wakes up for 20 seconds to take an average of 20high quality,time stamped still photos that store on the 2GB SD Card included with your BirdWatchCam. After taking the photos the BirdWatchCam goes back to sleep until another bird activates the camera again. This ensures that the BirdWatchCam's 4AA batteries that are included will last a long time.


The BirdWatchCam has a unique feature that makes it go to sleep at night.The BirdWatchCam'motion senor shuts off when the sun goes down and won't take photos until the sun activates the motion sensor again at sunrise.


The BirdWatchCam has one touch operation with an EASY to use laser targeting system which makes for perfect placement. The BirdWatchCam'targeting system allows you to target on where you want to take your photos. Simply push the button on the top of the camera and the laser shows exactly where the pictures will be taken.


The BirdWatchCam has a zoom lens designed so that when you turn on the camera it can be pre-focused at 1.5 M, 2M or 3M away from the targeted area. This feature gives you close-up, big, beautiful photos of birds from 1.5 meter, 2 or 3 meters away and photos of unwanted objects in the area.


The BirdWatchCam comes with a tape measure with the 3 distance settings clearly marked for easy location of the BirdWatchCam. This ensures that the camera will be located so that it will get GREAT photos but far enough away that it won't disturb the birds in their natural environment.


The BirdWatchCam universal mounting system is designed to allow quick and easy mounting to trees, walls, posts, windows, almost anywhere, making it perfect for your backyard or any remote locations.


The BirdWatchCam universal mounting system has the following options for EASY mounting:

Four suction cups that fasten the BirdWatchCam to a window.
Two rubber straps that can secure the BirdWatchCam to trees, poles, etc.
Five holes that can accept a screw or nail for mounting the BirdWatchCam onto any surface.
Tripod socket for use with any tripod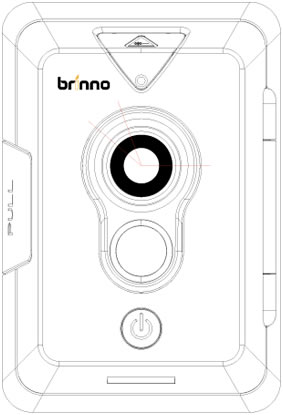 FEATURES

‧ One Touch Laser targeting System
‧ Motion Activation System targets a 9" x 12"sensing area
‧ Three distance settings, 1.5 meters, 2 meters and 3 meters
‧ Takes an average of 20 photos per 20 second activation
‧ High Quality Zoomed Lens
‧ High Quality Weather Resistant Camera
‧ 2GB SD Card included in package
‧ Auto Darkness Sensor forces camera into sleep mode at night
‧ 4 AA batteries (included in package)
‧ NO Wires
‧ Windows Compatible Photo files
‧ Brinno " Easy Photo " application included
‧ Small Size and Light Weight
‧ Single Button Operation
‧ Mega Pixel Photos
‧ Multiple Mounting Options with Universal Mounting Adapter
‧ Attractive yet Functional Design
‧ Auto Distance System for ease of locating
‧ Time and Date Stamped JPEG Photos
ADVANTAGES
‧ Quick and EASY to target
‧ Only Senses activity in the sensing area, NO wasted pictures!
‧ Flexibility in locating the camera
‧ 15 high speed photos of birds at the feeder
‧ High quality close up photos
‧ BirdWatchCam can be used YEAR round; Indoor / outdoor use
‧ Everything you need to store thousands of photos, in the package.
‧ Saves battery life and SD Card space by sensing darkness and going into sleep mode
‧ Battery life extending technology
‧ Can install anywhere
‧ Stores photos in an JPEG format for easy viewing with any windows imaging application
‧ Full featured, easy to use Brinno Photo tool
‧ Portable and flexible for mounting
‧ EASE of use
‧ HIGH quality photos
‧ Flexible enough to mount anywhere
‧ BirdWatchCam looks great and is designed not to distract birds
‧ EASY to install
‧ Know exactly when which Birds feed etc.
BENEFITS
EASY to install perfectly
‧ Sure to get a good shot
‧ Easy to install for perfectly focused photos
‧ sure to get great photos out of each set
‧ Great pictures of your birds
‧ Safe for outdoor year round usage
‧ No hidden costs
‧ Low maintenance
‧ Low cost and maintenence
‧ Fun to use
‧ EASY to manage photos
‧ EASY for anyone to set up anywhere
‧ Looks great AND works great
‧ Quick installation
‧ Great for serious birders
Product Specifications
Sensor
1.3 Mega Pixel CMOS
Field of View
9" x 12"
ZOOMED effect
1.5 Meters, 2 Meters or 3 Meters
FOCUS Point
1.5 Meters, 2 Meters or 3 Meters
Shot Rate
Takes an average of 20 photos per 20 second activation
Time
All photos are time and date stamped
Format
JPEG image files
Memory Storage
Up to 8GB SD Memory Card (2GB SD Card included)
System Memory
8 MB
Power Source
4 AA Batteries ( Included )
length of battery usage
Approximately 6 months
(battery life will fluctuate depending on bird activity)
Size (LxWxH) inches
4.23 x 2.73 x 6.26
Weight
0.83lbs
Laser Pointer
Class II
Housing Material
Weather resistant plastic
Accessories
Universal Mounting System, 4 suction cups,

2 rubber straps, tripod socket
Optional Accessory
Stake for flexible mounting
OS Requirements
Microsoft Windows 98/ XP/ Vista/ Win 7 
Millions of people love taking pictures. Millions of people love watching birds. Many millions of people love taking pictures of the birds they watch.The dilemma for most people is that there is never enough time to do either, let alone both! Now there is an EASY and fun way to do both even if you don't have as much time as you would like.
The Brinno BirdWatchCam is a high quality, low cost, EASY to use, motion activated Birding Camera with a 2 gig SD Card and batteries included it is EASY to mount and target on any bird feeder. The motion of the bird wakes up the BirdWatchCam for 20 seconds to take an average of 15 high quality still photo's, stores them and goes to sleep. Weather resistant, with a high quality adjustable zoom lens you can locate the BirdWatchCam conveniently away from your feeder and take and store thousands time and date stamped bird photos.
We thought it was just for birds but our users now capture deer, coyotes, bears and even pesky neighborhood kids with The Brinno BirdWatchCam.