| | |
| --- | --- |
| | Boulder 30 Solar Panel |
The Boulder 30 solar panel can be installed because of its strong tempered glass and the aluminum frame or you can take the lightweight panel with you.

Solar Power

Collect 30 watts of power from the sun to recharge your power pack

Easy to Use

Use for RV, cabin, camping, trickle charging, or for recharging your power pack to power all your portable
devices.

Maximize Collection

Easily link panels together to maximize your collection power and cut recharging time in half.

WHAT CAN THE BOULDER 30 SOLAR PANEL CHARGE?
The solar panel does not hold a charge it produces power when it is exposed to sunlight. You can store the power it produces in a portable recharger. The Boulder 30 can be used to power any Goal Zero recharger.
WHAT GOAL ZERO PRODUCTS WORK BEST WITH THE BOULDER 30?
The Boulder 30 can be used to power any Goal Zero recharger. For the amount of Watts it gives, it will be most effective with the Escape 150, Yeti 150, Yeti 400, Yeti 1250, or Sherpa 50.
DOES THE BOULDER 30 GIVE A FULL 30 WATTS?
It delivers up to 30 Watts of power, but the angle of the panels and the cloud coverage can impact its performance. Avoid the shade. It will not work indoors.
HOW DO I USE THE BOULDER 30?
1. Position and angle panel towards the sun

2. Plug the solar panel into recharger/battery pack (sold separately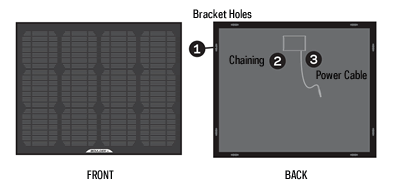 USAGE
Charges from the following:
Approx. Charge Time:
Sherpa 50 Recharger
4-8 hours
Yeti 150 Solar Generator
11-22 hours
Yeti 400 Solar Generator
26-52 hours
Yeti 1250 Solar Generator
20-24 hours (2 x Boulder 30)
INPUTS
Rated wattage
30W
Cell Type
Mono crystalline
Open-circuit Voltage
18-20V
Converting Eff.
17-18%
OUTPUTS
Solar Port
12V Charging port (8.0 mm)
14-16V, 2.0A max (30W), not regulated
GENERAL
Weight
6.5 lbs (2.95 kg)
Dimensions
21 x 18 x 1 in (53 x 46 x 2.5 cm)
Warranty
12 Months
Certifications
FCC and CE
Optimal Operating Temp.
32-104 F (0-40 C)